more >>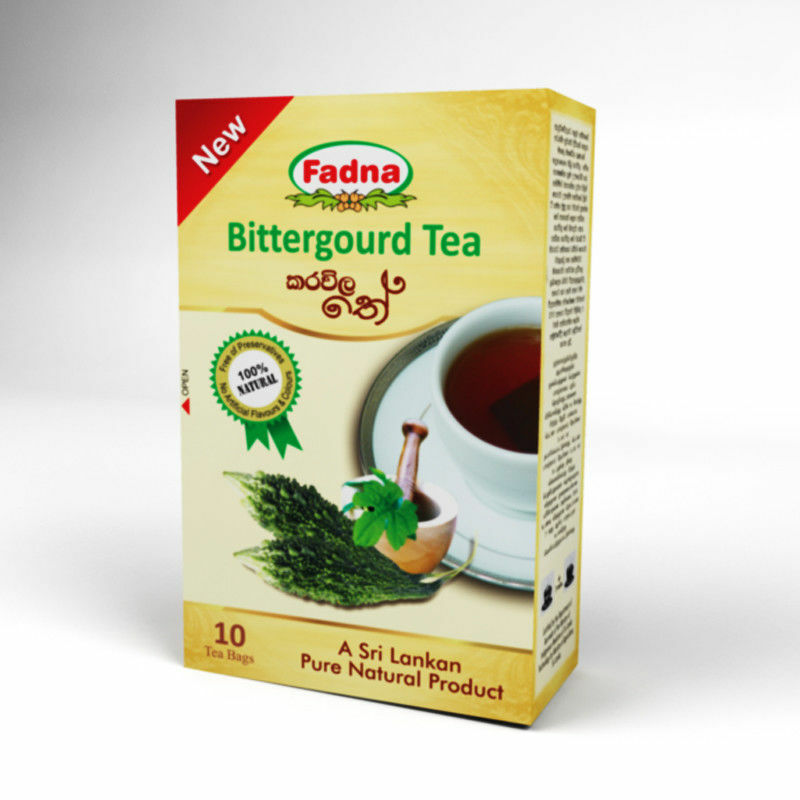 100% Natural Organic Fadna Bitter gourd Tea (Momordica Charantia)/Karawila Tea control Blood sugar level
Package Include 3 Boxes - 30 tea bags
Karawila (Momordica Charantia) / Bitter Gourd is one of the most promising and useful medicinal plants used as a remedy for diabetes and it is a nutritional vegetable to sustain human health.
The finest blend of Green Tea with natural Bitter Gourd packed in tea bags without using any chemicals makes a simple and pleasant beverage.
History of the Product
The properties of the herb were documented in traditional Ayurvedic Medical books over 3000 years ago.
The scientific report submitted to the 5th Asian Congress of Diabetes 2010 in Thailand confirms the efficacy claimed for Fadna Bitter Gourd Tea and proved that it will not have any undue damage to the Kidney and Liver.
How the Product Works?
Researchers found that Bitter Gourd has lots of active chemicals which involve in reducing blood glucose levels.
bitter gourd,bitter melon tea,bitter gourd tea,bitter melon,bitter gourd juice,bitter gourd benefits,bitter melon benefits,tea,bitter gourd health benefits,bitter gourd juice for diabetes,bitter gourd juice benefits,health benefits of bitter gourd,bitter gourd diabetes,bitter gourd recipe,benefits of bitter gourd,health benefits of bitter melon,bitter melon tea benefit,benefit bitter melon tea