more >>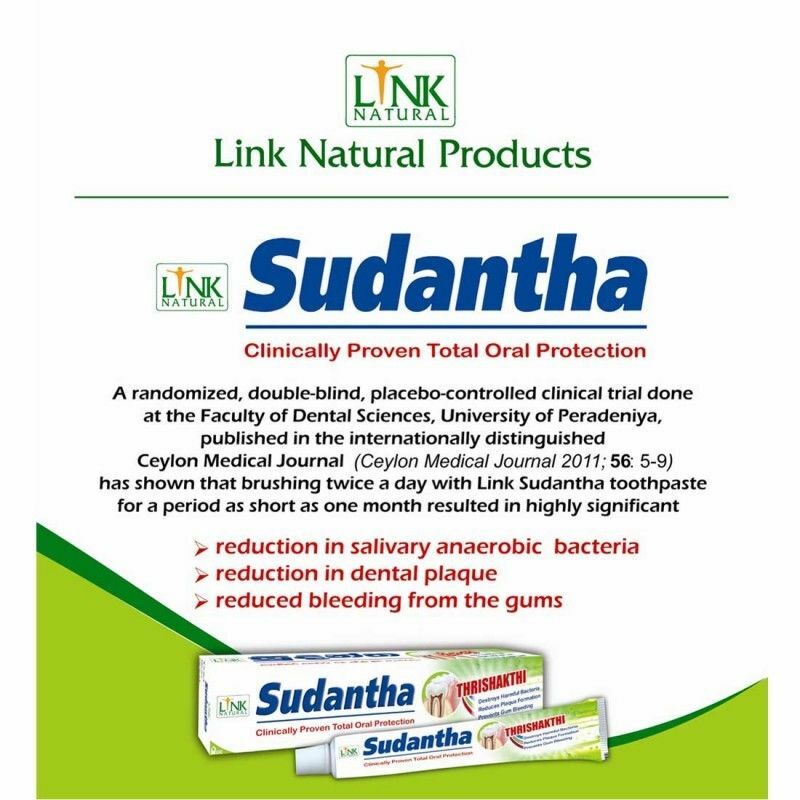 ** World Wide Free Shipping **
30 Days Money Back
guarantee
Link Sudantha Ayurveda Herbal Toothpaste 45g
Package Include - 6 Toothpaste tubes
Lasting Protection · Whitening · Fresh Taste · Sensitivity Relief
Good oral hygiene is cardinal good health. Link Sudantha toothpaste has been formulated,
encompassing the effectiveness of nine specific,
time tested herbal ingredients,
using the most modern,
development and manufacturing capabilities. Specific combination of these plant extracts acts synergistically to specifically inhibit the harmful bacteria in the mouth, inhibit plaque formation and reduce gingival inflammations thereby prevent gum disease, prevent caries and stops bad breath. Effectiveness of Sudantha has been already endorsed by millions of Sri Lankans as well as by scientific clinical studies
(Ceylon Medical Journal 2011; 56: 5-9, Ceylon Medical Journal 2015; 60: 126-132)
Link Sudantha toothpaste has been embraced by millions of Sri Lankans over the past few years, because they have discovered the efficacy of the product through regular use.
Link Sudantha enjoys the status of the fastest growing toothpaste in an almost static market (Source: LMRB HH Panel). Its credibility is based on the formula comprising time-tested Ayurvedic herbs, manufactured under stringent and scientific standards. This unique Ayurvedic formula offers a comprehensive solution for lasting oral health.
The efficacy of Link Sudantha toothpaste was scientifically established through, a randomized clinical trial, conducted by the Faculty of Dental Sciences, University of Peradeniya, which confirmed that this toothpaste significantly reduces harmful oral bacterial growth and dental plaque. Harmful bacteria and dental plaque are the causes for tooth decay and gum disease. A second clinical trial has confirmed that Link Sudantha toothpaste provides therapeutic benefits to patients with gum diseases.
Repeated dental screening performed by experienced dental surgeons at field level confirms that the regular use of Link Sudantha toothpaste enjoy better oral health.
Today marks an important step in the journey of Link Sudantha, as the brand gets the acceptance of the prestigious General Dental Practitioners Association (GDPA). The dental profession plays a paramount role in educating and guiding the general public on the importance of good oral hygiene, which helps to protect the teeth and gums, throughout life. The value of teeth and the importance it plays in healthy living cannot be over-emphasised.
Acceptance by the GDPA, provides an additional support to Link Sudantha, to continue to provide 'total oral care' to the people of Sri Lanka.
GDPA is the professional association of general dental practitioners who are in full time private dental practice. It was general dental practitioners who pioneered dental profession in the country. On request GDPA agreed to endorse Link Sudantha toothpaste after much scrutiny, to promote good oral health among Sri Lankans. This endorsement coincides with the centenary of the general dental practice in Sri Lanka.
Link Natural Products is a research-oriented company, driven by the challenging and inspiring corporate philosophy of fusing age-old, time-tested Ayurveda wisdom with modern science and technology to provide safe and effective solutions to cater to the needs of the consumer.